Postcards from Three Pandemic Mays
The May column from Paradigm Worker, a place for reflections on how we think about things, and why it matters. This issue is the third in a series about a project called Postcards from the Pandemic. [View the March essay to start from the beginning of the series.]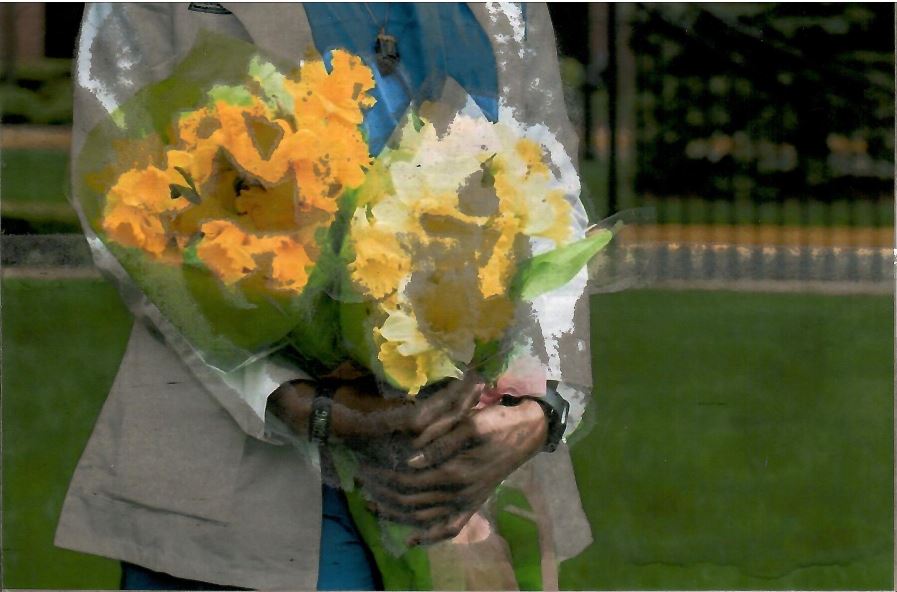 Sunday, 5/24/20
Watching the sermon by phone, we learned that a morgue worker placed daffodils on the body bags.
–From: Postcards from the Pandemic: May 24, 2020, back of postcard.
As the pandemic first rose and rode across the world like a tsunami, it washed away schedules, work patterns, social norms, and plans for the future. Normal, orderly time was broken up and scattered, –some of it lost all together. I've been trying to pick up the pieces, ever since. So, in March, 2020 I decided that each day from March 21 to June 21 I would collect and catalog a moment with an image and an observation to create postcard vignettes of my experience. I completed this almost every day.
May. They say, "April showers bring May flowers." The conditions are set, with seeds, soil nutrients, warmer temperatures, and water. These create not only potential, but seemingly a pressure for something to germinate and emerge. So, too, do fires bloom from a set of conditions that set the stage–dry kindling or fuel, heat, wind, and ultimately a spark. One can see the continuity, –the interdependence of before and after a triggering spark, but the event creates a threshold that ruptures one state of things to create another in response. There is no going back.
May 2020: At the threshold

I had to breathe carefully in May 2020. I entered the month very sick with a deep cough. Some springs are like this for me, but this year it was accompanied by the questions, "Is it Covid?" and, "Will I die?" Fortunately, it wasn't and I didn't. With the help of time, rest, and medications, my body returned to homeostasis.
Other disruptions from the first pandemic May didn't show any signs of returning to normal. Every few days a new event was cancelled: in-person graduation ceremonies, our summer vacation, and a summer camp I was supposed to lead. The pandemic was infecting the future and it was sinking in that these changes were only the beginning. We were in a new period of time–a new pandemic regime of separation that would last a while.
I read articles about loneliness, particularly of the elderly. I cried seeing a picture in the paper of a child and a grandmother reaching through a wall of clear plastic fitted with plastic sleeves so they could hug each other. We need each other, and those without a household "pod" were vulnerable. So many Covid patients died alone. In a sermon I attended on my phone, I learned of the story of a morgue worker who placed daffodils on the warehoused body bags, even though nobody was there to see. People can be so beautiful in times of hardship.
And other people can be so incredibly ugly. I didn't know yet about the murder of George Floyd on the evening of May 25th when I recorded my postcard vignette about how our dog ran through the screen door, tearing the fabric that protects the illusion of separateness.
"I can't breathe." The 8 minutes and 46 seconds of torture could have been an invisible murder, but instead it was ignited by a spark of witness, amplified by social media, and spread to a wildfire of response. I was stunned by both the rupture and the response, as well as by the nearness to home. Over the next week, the heat grew to a critical mass and it seemed like a state change was underway. Three days later on May 28th, the officers had still not been arrested. I signed a petition, conscious of the inadequacy of my action. That night the third precinct police station was in flames, 22 miles from my home, making international news. May 29 Derek Chauvin was arrested. So was a CNN journalist at the protest in Minneapolis. They had to set their video camera on the ground sideways and there was an eerie, rotated, live feed of protesters feet beyond the pavement. May 30, 2020 there were alerts in and around Minneapolis and St. Paul, growing nearer to our home as protests were accompanied by riots and looting, and rumors of white supremacists amplifying the chaos for their own aims grew. The major freeways in town were closed and curfews were set. This continued into May 31, and I wondered if maybe this was it–when a revolution would start. When we wouldn't go back to how things were before.
May 2021: Holding patterns

A year later in May 2021, had things changed substantially for racism in the United States? Some changes were there, with Chauvin's guilty verdict in April, many confederate statues had been removed, and there was more talk about anti-racism in my academic circles. But it still felt incremental and in slow motion. No revolution, but perhaps a gradual evolution. A slight moving of the needle. I felt both inside of–and a constituent part of–the thick mass of cultural inertia. My small inadequate acts and participating in the status quo blended in with the mass sedation. Whatever momentum I felt the prior year subsided into a new normal.
Meanwhile, in May 2021, there was the illusion that with the vaccines we'd be on our way out of the pandemic and return to our old normal. Perhaps we could gather again and puncture the separateness from each other that breeds isolation. At the same time, I was reflecting on reconnection of another type. I was working on an essay called "Integrated Bodies" that was about the paradigms of the Planetary Health Education Framework. Planetary Health is an emerging approach to viewing environmental problems and human health challenges in an integrated way. It centers a recognition of the interconnectedness of our human bodies with each other and all other life forms of Earth, and the wellbeing of the Earth itself. Recognition of our interconnection is the foundation of our mutual health.
I believe that–that being together, in solidarity and in company with each other, and with the rest of life on earth is central to our collective wellbeing. Our bodies are ultimately, one body. This connection provides a sense of belonging but also a burden to hold and protect those in our larger community. The hurt in the world is huge and hard to hold, but less hard if we hold it together.
May 2022: Surrender

There is only so much hyper-vigilance we can sustain at each new wave of pandemic development. There is a limit to the outrage we can hold for each new societal crisis. And it is hard to stay in in the mode of a "climate emergency" after each new IPCC report warning of climate collapse. Each milestone holds the potential of being a threshold event, yet most of the time the promise is unfulfilled.
May 4th, 2022 the CDC announces that the US Covid death toll has reached 1 million. This is shocking, though predicted, and articles memorialize the loss, trying to put faces and stories behind the statistic. The milestone washes over the news, and subsides. By the evening of Memorial Day the death toll is one million, four thousand, seven-hundred and sixty.
May 24th, 2022 nineteen children and two teachers are massacred at an elementary school in Uvalde, Texas. This is shocking, though predicted. The rupture is met with grief and outrage at the lack of common-sense gun laws, just as the Sandy Hook shooting was almost ten years ago. One would think. THIS. This is it—the threshold of heartbreak where things change. Except, we seem to have a learned helplessness from all the other hundreds of school shooting milestones since Columbine. Maybe this time it will be different. Or maybe it won't.
Maybe this year's wildfire, hurricane, lost species, lost shoreline, or disaster-destabilized country will be the threshold for serious climate action. Or maybe it won't.
It feels like surrender sometimes. The sparks flare but do not ignite meaningful transformation. Will it take larger triggering events?
There is an unstruck match on the cover of Malcom Gladwell's decade's old bestseller, The Tipping Point; How Little Things Can Make a Big Difference." The book explores the counter-intuitive leverage that small events can have. I say counter-intuitive because, even major events – like Covid death tolls, and school shootings, don't seem to transform our situations. Using the metaphor of epidemics, the book explores the dynamics of transformative change and how contextual factors form the essential conditions for change and set the stage for a spark to become a wildfire. Many of those conditions depend on interconnected networks of people.
I am beginning to think that there is a place for surrender in my desire to support transformative change. I don't mean surrendering to the status quo. I mean surrendering to connection—both the belonging and the burden of both action and grief it entails. Buddhist activist, Joanna Macy, says that grief for our world is an important part of the journey to healing it. We can't close off from grief, or we risk closing off from care and love that are the foundation of effective action.
In addition to taking action in support for change, I also may need to make more space for grief that — sitting with my own and my community's pain. Love and connection are the way forward. There is no going back.
---
What ruptured in your life, and how did you respond? How are you still responding, holding things together with community, even as things fall apart?