Postcards from Three Pandemic Junes
The June column from Paradigm Worker, a place for reflections on how we think about things, and why it matters. This issue is the fourth and last in a series about a project called Postcards from the Pandemic. [View the March essay to start from the beginning of this series.]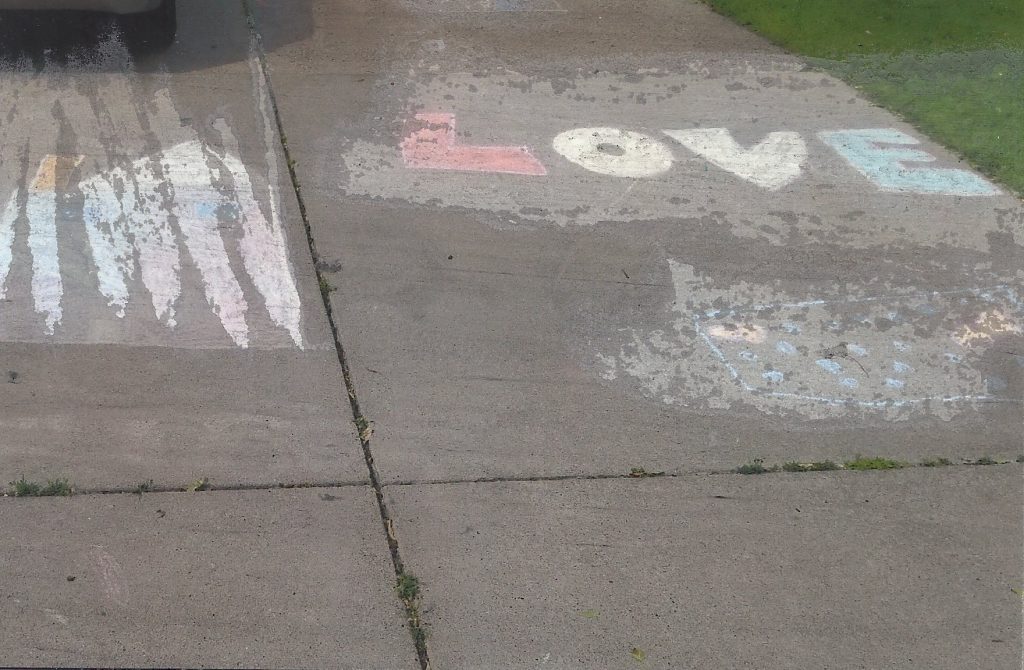 Saturday, 6/6/20
I journaled about truth and transformation. A neighbor chalked "LOVE" on their driveway.

–From: Postcards from the Pandemic: June 6, 2020, back of postcard.

As the pandemic first rose and rode across the world like a tsunami, it washed away schedules, work patterns, social norms, and plans for the future. Normal, orderly time was broken up and scattered, –some of it lost all together. I've been trying to pick up the pieces, ever since. So, in March, 2020 I decided that each day from March 21 to June 21 I would collect and catalog a moment with an image and an observation to create postcard vignettes of my experience. I completed this almost every day.
June. June 21st, 2020 was the destination when I started my 'postcards from the pandemic.' The sense of order I sought in March of that year depended on the daily containerization of time with each postcard, but it also depended on fastening my experience between two immutable annual events: the Spring Equinox and the Summer Solstice. These anchors provided a stable time frame as all other patterns disintegrated. As the end point of my self-defined time capsule approached, I reckoned with what the intervening moments added up to, but a conclusion didn't come. Again, in June 2021 I tried to finish the story, but I felt stuck mid-narrative. Now, this time, all my intended endings each June stop here, on June 21, 2022 out of sheer will or exhaustion if nothing else. It is time to bring the story home.
June 2020: Turning Points

The landscape outside our front door was changing with a major road and infrastructure project underway. In June 2020, in front of our house, a natural gas main was being replaced. For years I've felt like infrastructure was a hidden architecture of interconnection, even when it connects us to what is uncomfortable to reveal, like our dependence on fossil fuel. It felt morally suspect to be updating fossil fuel infrastructure as the climate crisis worsened. I had a sense of exposed complicity since eventually we are all connected to the pipes downstream. With incremental progress, our climate story was still in tension and I longed for a cultural and political tipping point toward resolution.
Meanwhile another large shadow infrastructure of racism was being dug up and laid bare for all to see. The pandemic took backstage in June as our nation made starts at reckoning with its racism after the viral video of the George Floyd murder in May. The University of Minnesota closed at noon on June 4, 2020 for the memorial service. I attended online to dwell in the moment that was about telling the story of his life, his death, and about the broader issues that they had come to symbolize. This was a milestone in our nation's evolution. Near the same time, Congresswoman Barbara Lee introduced a bill to form the Commission on Truth, Racial Healing, and Transformation. The bill's litany of "whereas" statements (from slave ships to internment camps) acknowledged the suppressed shadows of our history—the truth-telling groundwork to chart a different future.
While some of society was churning with milestones and a sense of movement, Spring for our family just faded into summer. The usual events that mark seasonal turning points were subdued with the pandemic. After a trimester of online schooling, we drove through the parking lot of my son's school and waved at the teachers from a safe distance to acknowledge a completed school year. This was the closest we'd get to in-person school connections for a long time. Drive-thru life flattened experience as the environment and transactions were viewed through a car window. Even after our dog's neutering operation, he was delivered to our car by curbside pick-up.
June 2021: Liminality

If time slowed down in 2020, it seemed to completely stall in 2021. Our boys had an entire year of online school, and all in-person conferences and travel were cancelled. Summer looked promising after the vaccines, but we were still in a holding pattern. A fitting symbol for me of 2021 is the broken wall clock in my office that is frozen at 3:38 and 47 seconds. Its second-hand pulses but will not advance. Occasionally, I put in a new battery and wiggle the gears, hoping for a different outcome, but it always gets stuck, like visual metaphors of stopped time in sci-fi movies.
Despite the stagnation, time did progress. The most striking embodied evidence that a year of pandemic had passed was that our two sons, who entered the pandemic with boy voices and bodies, emerged spring 2021 taller than me and with man-pitched voices. They had grown into the present, but I lingered in the past, trying to catch up on the postcards. I printed the original photos and rubbed a bar of paraffin wax over portions that I wanted to preserve and highlight. Then I used a thin gray ink wash that I brushed over them, dimming the photograph except where it was preserved with wax. The stories I try to tell of the pandemic are like the postcards. Portions are preserved and curated as the rest are released into the background. Before they are filtered like this, stories are in limbo as undifferentiated collections of details. In June 2021, I was wading through what mattered, but I was still mid-story, in liminal time.
June 2022: Resolution

My attempts that first pandemic spring to capture time and hold a bit of it had spilled over into the next two years. The June 2020 observations and images had barely been recorded in real time. The creation of the physical post cards fell out of sync, and the 2021 video recordings of receiving the June postcards lost their intended "one year later" alignment and were not received and recorded until early March, 2022 with snow surrounding the mailbox. I had made a mess of bringing order to the times. And yet, the mess was its own record too. Each March I made new plans. Then, as my desired order disintegrated each April, the broken timelines of my project seemed a more accurate picture of my pandemic story than my original intentions. Despite my fondness for the project, it was exhausting trying to finish the story. This was a story that had no apparent ending.
Now. This brings me to the present. Despite a lack of resolution, I am ready to set this story down midstream and call it my reckoning of the early pandemic. I say "early," since I don't see it ending any time soon. I simply can't drag any more months and years forward into summer 2022, waiting for narrative closure. I hereby declare June 21, 2022 as the end of my story of the early pandemic.
As I resign myself to this, I realize that it may be the loss of ordered time–not its mastery–that is my greatest pandemic lesson. Perhaps the narrative impulse I am drawn to is also a trap. It is not the sum of the moments the post cards capture, but the moments themselves that give life meaning.
On the eve of June 20, 2022, in my U.S. Central time zone, I watch a live stream of the solstice sunrise at Stonehenge. A crowd in silhouette faces the ancient sculpture as the alignment approaches. The moment comes and the sun hovers as anticipated by prior civilizations over the composition of stones–a setting for the solar jewel. With ethereal new age music playing in the video, people raise their hands, phones held high to capture the turning point. Perhaps older civilizations also raised their hands in praise for this moment while they captured it with their eyes.
Comments roll in from all over the globe's many longitudes, wishing blessed solstice and expressing hope for peace. For centuries we have looked to these celestial events to connect with the eternal cycles. I wonder how many, like me, had hoped that such an auspicious moment might signal a change for the better, still imagining a turning point for our larger story toward its destination. But the cycles of the sun are heading nowhere. They make no progress and reach no resolution. These celestial turning points are always flowing, opening as many possible stories as we might imagine.  As it has always been, there is no true beginning or end. This fluid emergence of the now is reliable. Moment by moment, we are always in progress and already home.
---
How have you reckoned with your pandemic experiences? How are you still? May you find peace in your stories.